Events and Attractions
Attractions
---
LocoLanding Adventure Park
LocoLanding Adventure Park is fun for the entire family. Enjoy mini golf, zip around the the Go Kart track, or have wet, bouncy fun in bumper boats. It will take an adventurous heart to fly through the air doing back flips on the Monkey Motion ride, super bounce with Areoball, or climb the Rockwall.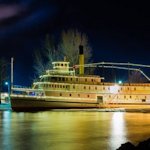 S.S. Sicamous Inland Marine Museum
The SS Sicamous is the largest surviving stern wheeler in British Columbia. The ship has been beautifully restored and is open for tours. Children will enjoy running around the decks, and watching the model railway (which fills much of our cargo deck). Adults will love the atmosphere, the passenger cabins and the luxury.
Okanagan Amusements
At Okanagan Amusements, check out the fastest go karts in Penticton and splash around in their Bumper Boats. Come play a round on our scenic course that will remind you of the classic mini golf you grew up on. Okanagan Amusements has batting cages and a great assortment of arcade and prize games for all ages.
Apex Mountain Ski Resort
Apex Mountain Resort remains one of the hidden gems of Canadian skiing. Located a short 30 minute drive from Penticton, BC, Apex is a full service destination resort with quality snow, great weather, incredible terrain, and friendly people. Apex being located in the heart of the Okanagan Valley, features the perfect mix between large amounts of precipitation and low humidity that makes for the lightest champagne powder snow imaginable.
Ikeda Japanese Garden
During the 1992 visit to Japan, the idea of establishing an Ikeda Japanese Garden in Penticton was initiated. During the Ikeda delegation's visit in 1993, newly elected Mayor Kazuo Oishi presented us with a set of high quality conceptual plans. The Penticton-Ikeda Japanese Garden has matured beautifully. It is very well used and dozens of people walk through every day to enjoy the views, the peace and quiet, and the fish.